Your wedding like in the cinema
Every story is different, every story is the most beautiful.
Because it's your story!
We would love to hear it!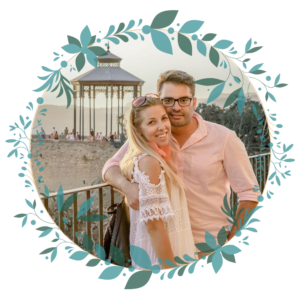 Hola! We are Monika and Tomás, a couple in life and at work. We have been married for a couple of years and our love story is a bit crazy. Monika is Polish and Tomas is Chilean, but our paths crossed in Spain. To make a short story, we met at the University of Malaga, 5 months later we got engaged in Italy and the following year we got married in Poland. We organized our wedding in 3 months, that's why we know all the related stress. When we received our wedding photos and video, we felt that maybe in the future we could do the same. What is more beautiful than capturing people's moments, emotions, and love?
Our other passion is traveling. Together we were able to visit several countries in Europe and South America. This is how our travel blog VamosHoney (Let's go honey!) was born. For us it's kind of the «call to a new adventure», for a new trip.
At VamosHoney Wedding Stories we want to tell the beginning of your new story and the most exciting journey of your lives, your wedding. Are you ready? Do you want to share your story with us? Vamos?
Our services include: elegant and dynamic, cinematographic wedding video and natural photography.
Learn more about our offer.

We will make sure that your wedding film is unique and full of emotional moments.
We want to capture every special moment of your wedding day to you can relive it through the video anytime you want.
Discover more wedding stories here!
On your wedding day you are the most important! You won't have to worry about us. Our photography style is natural, that's why we will be at your wedding as one more guest, capturing the most important and spontaneous moments.
Discover some wedding moments here!
Very simple, without complications, because we don't want to complicate things more. We offer wedding video and photography. We can do both services, but in this case we will take an extra photographer and we will dedicate ourselves to do the video. This is only a summary of our services.
Go for more details here!
Full Day Coverage
Preparations
Ceremony
Party
Post wedding session
Trailer 2-3min + video 15-20min
1 or 2 filmmakers
Preparations
Ceremony
Party
Aerial Drone Footage
Pre wedding session
Photo Album
Thinking of something special?
Share your idea with us!
Do you like what you have seen? Contact us directly. Complete the form, send us an email or call us by phone.
We speak Spanish, English, Polish and some German.
hola@vamoshoneyweddingstories.com
Monika: +34 602 601 468  
Tomás: +34 602 468 474